Project Description
Lerøy Sjøtroll Kjærelva, located in Fitjar, Norway, is one of the world's largest post-smolt RAS facilities. The facilities are designed according to the highest standards, with a strong focus on biosecurity, fish logistics, and footprint.
The plant is made of twelve departments with two separate production lines. Each line consists of a hatchery, as well as Kaldnes® RAS departments for starting lining, growth, presmolt, and post-smolt. The plant is automated with PLS controls and control rooms (SCADA) and also includes a system for maintenance planning and management (MimerVA).
Capacity: 7 million 500 gr. post-smolt – 5.5 million 160 gr. smolt
Maximum feeding: 21.6 tons/day
Total fish tank volume: 24,200 m3
Total building area: 20,200 m3
NLI Scope
E&I installation works.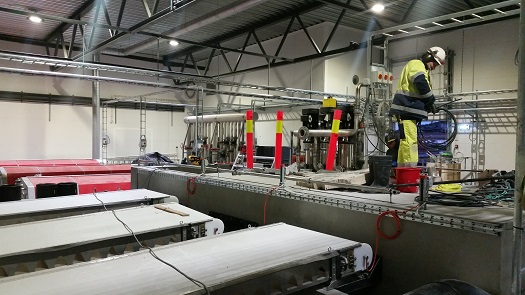 Contact
Olav Bolseth
Mail: olav.bolseth@nli.no